Annual Lecture 2019
HANAN AL-SHAYKH:
My travels through Cultures, Languages and Writing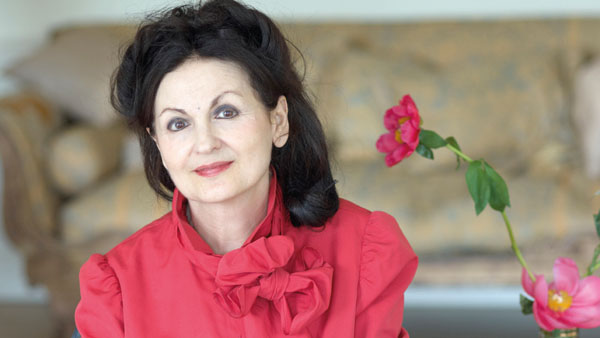 From Abu Nuwas to Bint Al-Shaykh
Below is a video of the Lecture

-
In this year's Lecture Hanan Al-Shaykh, the internationally acclaimed Lebanese novelist and playwright, discusses her writing and how it continues on the path of ancient Arabic literary traditions and the great 8th-century poet Abu Nuwas in being open and bold in tackling subjects such as sexuality and feminism.
A surprise addition to the evening was a brief introductory performance by the wonderful oud-player
Joseph Tawadros (www.josephtawadros.com)
When Hanan Al-Shaykh first discovered the 1,220-year-old lyric poems and wine songs of the great poet Abu Nuwas she was already making her own waves as a young journalist on Beirut's daily An-Nahar newspaper and on Al-Hasna, a magazine for women. She had embarked on a ground-breaking series of interviews with 21 prominent Lebanese women, including the first woman politician, the first judge, the first doctor, and Anbara Salam Khalidi, the first woman in Lebanon to abandon the veil.
Hanan was inspired by Layla Baalbaki's revolutionary novel Ana Ahya (I Live), a powerful protest for individual liberty against oppressive patriarchy, while in '60s Beirut Russian, French and English classics translated into Arabic were very popular. Hanan was reading these as well as Arabic literature, and especially works of the existentialist movement, in English and Arabic. Earlier in Cairo, as a student, she immersed herself in the greats of Egyptian literature, and it was there that her writing career took off as she finished her first novel, Suicide of a Dead Man.
• Hanan Al-Shaykh is a celebrated and award-winning novelist, playwright, journalist and storyteller from Lebanon, renowned for laying bare the world as she sees it, devoid of clichés and stereotypes. Though her works feature female protagonists who struggle to be free of social, patriarchal and religious restrictions, she never labels herself an "Arab feminist writer". Her latest "mischievous" novel in English translation, The Occasional Virgin, published 2018, never ceases to entertain and "intrigues on many levels" in its discussions of religion and sex. Her first to be translated, The Story of Zahra, was followed by Women of Sand and Myrrh, Beirut Blues and Only in London, shortlisted for the Independent Foreign Fiction Prize, plus the short story collection I Sweep the Sun off Rooftops. The Locust and the Bird is the highly acclaimed memoir of her mother's life. Her plays include Dark Afternoon Tea and Paper Husband. One of her recent works, One Thousand and One Nights, is a thrilling retelling of stories from the Arabian Nights (Alf Layla wa Layla). Her works have been translated into 21 languages around the world. Hanan al-Shaykh holds an Honorary Doctorate in Humane Letters from the American University of Beirut, and in June this year was made a Fellow of the Royal Society of Literature.
Knowledge Centre
The British Library
96 Euston Road, London NW1 2DB
Show Map How to get to the Library British Library webpage for this Lecture